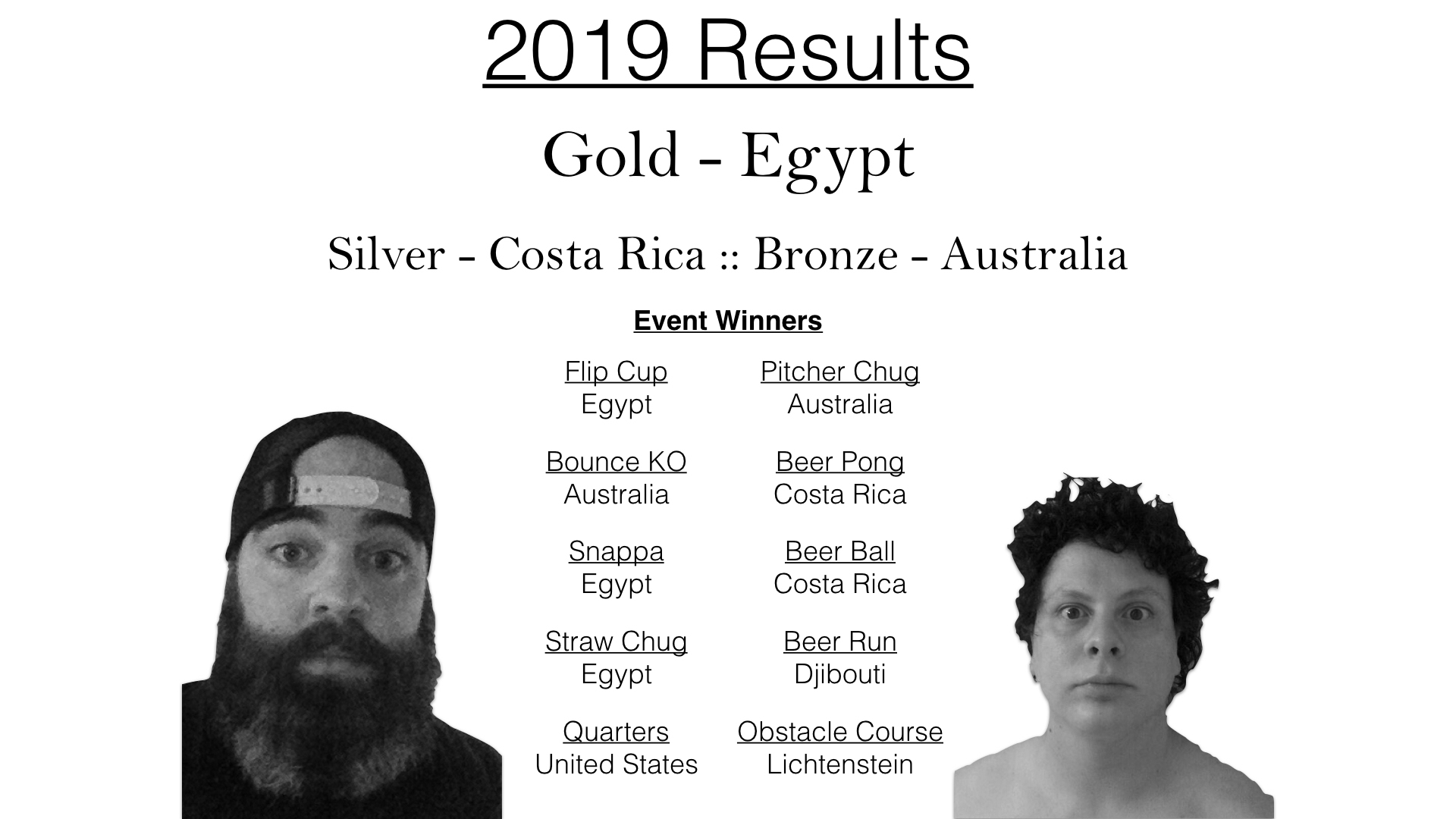 2019 Beer Olympics Summary
Another Beer Olympics has come and gone. Egypt, Costa Rica, and Australia claimed spots on the podium but many others had their shots and in the end, all 12 teams put points on the board. Certainly, the 24 hours is a blur and the teams who just missed out have to be looking at what missed opportunities they could take advantage of next year. Here is the evaluation of each team:
Egypt (LePage/Tillman) – GOLD – 10 points (3G, 1B) – 25.9 beers
What Went Right
It's very easy to say "they won" but there's a lot more to it than that. 5 of the 6 champions have totaled at least 3 points in the first two events so coming out strong certainly plays a part. Egypt won Flip Cup, the first event. They won their pool in that event as well as every other bracketed event. This gave them a bye in all of the brackets, making them only 2 wins away from a medal. Clearly, their experience with all these events helped them take advantage early while other teams were still figuring them out.
What Went Wrong
After the Flip Cup win, Egypt didn't score another point the rest of Friday. Only 2 of 17 other teams have made the podium after scoring fewer points on Friday. Egypt looked great on Saturday morning adding 2 more Gold's but choked in Beer Run then blanked the final two events. Egypt left the door open for some other teams but those teams failed to capitalize and Egypt coasted into the top spot.
Costa Rica (Danford/Saldivar) – SILVER – 10 points (2G, 1S, 2B) – 30.5 beers
What Went Right
As the highest finishing amateurs, the Costa Ricans picked things up fast. They grinded their way through Bounce KO, Snappa, and Beer Ball, playing 6 games in each. They were dominant in Beer Ball bracket play.
What Went Wrong
Unlike Egypt, Costa Rica did not win any of their pools meaning they didn't receive a single bye. That led to them drinking the most in the tournament. They also dropped a huge opportunity by failing to make the final cup in Beer Run and settling for Silver. After tying Egypt, they also blanked the final two events
Australia (Steffes/Thompson) – BRONZE – 7 points (2G, 1B) – 26.6 beers
What Went Right
6 points matches USA's Friday total from last year as the most since 2015. Australia had to feel good about their positioning especially considering they grabbed Gold in Pitcher Chug, a traditionally American event. The Aussies also won their pool in Beer Ball en route to their final point.
What Went Wrong
Saturday did not go quite as well as Friday did and included a bubble in Beer Run, an event they looked poised to medal along with a weak finish in quarters and obstacle course.
Djibouti (Austin/Miller) – 4th – 7 points (1G, 2S) – 24.3 beers
What Went Right
When the top teams cracked the door open, Djibouti was ready, medalling three straight events Saturday afternoon, including a miraculous set of comeback wins in Beer Run and a shoot-off victory in Quarters.
What Went Wrong
It appears from the records that they did not show up until lunchtime on Saturday. Sitting with 0 points after 6 events, the hill was just too steep to climb. Up until that point, Djibouti managed to hold a record of an almost unbelievable 2 wins and 15 losses.
Ireland (Rivera/Tevik) – 5th – 6 points (2S, 2B) – 29.6 beers
What Went Right
Ireland won a pool game in every bracketed event and advanced in the bracket in all but one. They medalled in all 3 events that they reached the semis in and negotiated the OC smartly for Silver.
What Went Wrong
Snappa was the only event where Ireland truly shined, and even that was good enough for only a Silver. The Irish were above average in every event except Pitcher Chug and Beer Run but a bubble in Quarters ultimately looks in hindsight to be the deathblow to their podium hopes.
United States (Elrey/Jones) – 6th – 5 points (1G, 1S) – 23.0 beers
What Went Right
The Quarters performance was truly fantastic and somewhat surprising considering this pair had not medalled that event previously. The Americans also won their pool in Beer Pong, Snappa, and Beer Ball.
What Went Wrong
The US was stunned as soon as they did not Gold the Pitcher Chug. Events like Bounce KO, Snappa, and Beer Ball, which were US Gold's last year, came and went with no points. In 2 of their 3 pool wins, the US lost their first bracket game and in the third, they bubbled.
Lichtenstein (Ernst/Symington) – 7th – 4 points (1G, 1B) – 22.4 beers
What Went Right
The Lichts were miles ahead of every other team in the Obstacle Course and that Gold vaulted them up the final rankings. They also won their pool in Bounce KO and Beer Ball and Bronzed in Straw Chug.
What Went Wrong
Lichtenstein only won 1 game in the brackets and ran into a hot Costa Rica team in Beer Ball, an event that they were looking very solid in. They also blew their round one lead in Quarters, failing to medal.
Olympic Athletes From Russia (Richards/Sheets) – 8th – 4 points (2S) – 26.2 beers
What Went Right
OAFR was hot out the gates with a pool win and an overtime finals loss in Flip Cup. After losing both pool games in Beer Ball, the OAFR turned it on and won 3 straight on their way to another Silver.
What Went Wrong
In the timed events, OAFR finished 5th and 4th. Respectable, but good for no points. After winning their Bounce KO pool, they lost in the quarterfinals. Very easily, OAFR could have had the Friday lead.
Jamaica (Dragoslovich/Williams) – 9th – 3 points (1S, 1B) – 28.1 beers
What Went Right
Jamaica never finished last in their pool and grinded Bounce KO to Silver. The Jamaicans embody the best of the Beer Olympics. If this was their last run, they have set a very high bar for those who follow.
What Went Wrong
A couple of bubbles and a lost shoot-out make their total look worse than it could have been. Jamaica just can't compete in the timed events so they couldn't afford to let any points slip by in all the others.
Greece (Guzman/Wilburn) – 10th – 2 points (1S) – 22.9 beers
What Went Right
Greece listed Beer Pong as their best event and followed through with Silver. They won their pool in Flip Cup and Beer Run as well and were easily one of the top teams in those events too.
What Went Wrong
Greece was a two trick pony, shooting and flipping, and left points on the board, losing in their first bracket game twice after winning pools. They need to expand their skill set but seem to have high potential.
Vatican City (Lohr/Wolf) – 11th – 1 point (1B) – 21.9 beers
What Went Right
The Vatican was the final team to score a point but was able to pull themselves out of the basement with a last minute Bronze in the Obstacle Course. They were also actually quite good at Flip Cup.
What Went Wrong
Maybe one too many morning drinks on Saturday. After winning both pool games in Flip Cup, Vatican City failed to win another game in any other bracketed event, many times seeming confused of the rules.
Italy (Reigle/Distefano) – 12th – 1 point (1B) – 22.3 beers
What Went Right
The Italians were one of the toughest teams at Snappa and started strong at Bounce KO before eventually bubbling. There were glimpses to indicate a possibility of better times ahead for these competitors.
What Went Wrong
It seemed to be an emotional experience for Italy and that might have hurt their composure. A couple tough breaks cost them point opportunities and they were, unfortunately, unable to finish the tournament
2019 Beer Olympics Event Results
GOLD - Egypt
SILVER - Costa Rica
BRONZE - Australia
Participating Countries
Egypt - LePage, Tillman
Costa Rica - Danford, Saldivar
Australia - Steffes, Thompson
Djibouti - Austin, Miller
Ireland - Rivera, Tevik
United States of America - Elrey, Jones
Lichtenstein - Ernst, Symington
Olympic Athletes from Russia (OAFR) - Richards, Sheets
Jamaica - Dragoslovich, Williams
Greece - Guzman, Wilburn
Vatican City - Lohr, Wolf
Italy - Reigle, Distefano
Events
Flip Cup
GOLD - Egypt
SILVER - OAFR
BRONZE - Ireland
Quarters
GOLD - United States of America
SILVER - Djibouti
BRONZE - Jamaica
Pitcher Chug
GOLD - Australia - 14.99
SILVER - United States of America - 15.24
BRONZE - Costa Rica - 17.10
Beer Run
GOLD - Djibouti
SILVER - Costa Rica
BRONZE - Egypt
Beer Ball
GOLD - Costa Rica
SILVER - OAFR
BRONZE - Australia
Straw Chug
GOLD - Egypt - 39.72
SILVER - Djibouti - 42.48
BRONZE - Lichtenstein - 44.81
Snappa
GOLD - Egypt
SILVER - Ireland
BRONZE - Italy
Bounce Knockout
GOLD - Australia
SILVER - Jamaica
BRONZE - Costa Rica
Beer Pong
GOLD - Costa Rica
SILVER - Greece
BRONZE - Ireland
Obstacle Course
GOLD - Lichtenstein
SILVER - Ireland
BRONZE - Vatican City